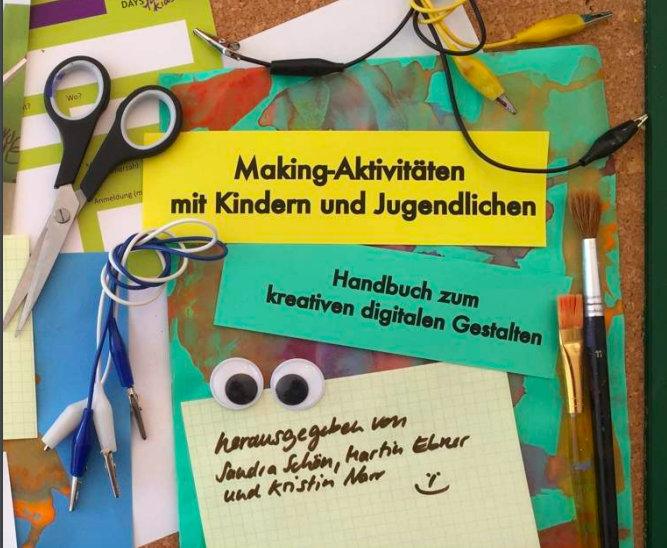 Back to Germany Over to Austria for a very creative open teaching manual for K-12.   If I was a K-12 teacher I'd be seriously excited by this find because it's well designed and easy to follow teaching handbook for Making activities with children and teenagers. Manual for creative digital design. It's available as a pdf or you can navigate the various chapters from this page. Here's how it is described on the website.
Making activities with children and teenagers. Manual for creative digital design

Short link to this page: http://bit.do/manual

Here is the PDF for the free, openly licensed Handbook on Making with Children and Young People: " Making Activities with Children and Young People" Handbook on Creative Digital Design , edited by Sandra Schön, Martin Ebner and Kristin Narr (2016).

And that's what it's about:

Thirty-three projects on creative digital design with children and adolescents at school, at leisure and MINT initiatives are presented in this handbook. In addition backgrounds for the making are described. Among the project descriptions are concepts for open digital workshops for children, youth hackathons, makerspaces at the school, workshop offers and lessons on 3D modeling, optics, stereoscopy and virtual reality. Whether it's programming, 3D printing, photography with a smartphone or cartooning with tablets, soldering LEDs or working with Raspberry Pi, the MaKey-MaKey-Kit or other new and old tools: It's always about how children work together with children World around digital and technology can be creatively designed and reinvented. It prefers to describe projects
I got pretty excited by the table of contents, which I'm cutting and pasting in its entirety below because it's too good to miss.
—————-
To get started
Introduction to making activities with children and adolescents
Concepts and methods for making with children
Introduction: Concepts and Methods for Making with Children
"Maker Days for Kids" – A temporary open digital workshop [to the article in the practice blog of 3.2.2016]
"Future Park Ehrenfeld" – the holiday week with fun, art and ideas [to the article in the practice blog from 4.5.2016]
Jugend hackt – a weekend joint coding and making [to the article in the practice blog from 5.10.2016]
A Makerspace at a school [to the article in the practice blog from 2.3.2016]
Do It Yourself – a week of makerspace in the Jugendeinrichtung [to the article in the Praxisblog from 16.3.2016]
"Maker Kids" – holiday program of the city library [to the article in the practice blog from 1.6.2016]
Design Thinking for Maker projects – the "ideal learning environment" [to the article in the practice blog of 15.6.2016]
Media practice evening for parents of parents [to the article in the practice blog from 9.3.2016]
Simple programming and digital design
Introduction: Simple programming and digital design
Scratch introduction with the help of an online tutorial or maps [to the article in the practice blog from 28.4.2016]
Playful introduction to programming for preschool children and parents [to the article in the practice blog of 22.6.2016]
Entry into music making and programming with Sonic Pi [to the article in the practice blog of 6.7.2016]
Quiz creation with children [to the article in the Praxisblog from 29.6.2016]
Collaborative drawing for creativity support [to the article in the practice blog of April 13, 2016]
Simple robot construction and work with LEDs
Introduction: Simple robot construction and working with LEDs
Soldering exercises for the entry [to the article in the practice blog of 30.3.2016]
Build Bibberiche yourself – Vibrobots in the class [to the article in the practice blog from 18.5.2016]
LED-handicrafts [to the article in the practice blog from 13.7.2016]
Making around the smartphone
Introduction: Making around the Smartphone
Virtual Reality to Do It Yourself [to the article in the practice blog of 20.7.2016]
The homemade projector [to the article in the practice blog of 27.7.2016]
Smartphone gadgets self-built – from the power bank to the music amplifier [to the article in Praxisblog from 11.5.2016 ]
3D modeling and printing
Introduction: 3D modeling and printing
The homemade cookie cutter [to the article in the Praxisblog from 24.2.2016]
Ship ahoy with Tinkercad [to the article in the practice blog of 25.5.2016]
Güggeltown – The city from the 3D printer [to the article in the practice blog of 3.8.2016]
The self-built 3D scanner with smartphone & Co. [to the article in the practice blog from 10.8.2016]
Photography and film with smartphone and computer
Introduction: photography and film with smartphone and tablet
Animation workshop with smartphone or tablet [to the article in the practice blog from 17.8.2016]
Monster in the spa town – animated film production in the city center [to the article in the practice blog from 8.6.2016]
Learning Video Production on the Tablet – From the Screencast to the Green Screen Technique [to the supplement in the Praxisblog from 21.9.2016]
The Smile Safari – taking pictures with your smartphone [to the article in the Praxisblog from 10.2.2016]
Let's play videos – with little effort to professional results [to the article in the practice blog from 24.8.2016]
Making with alternative hardware
Introduction: Making with alternative hardware
Banana piano and Co. with MaKey MaKey [to the article in the practice blog of March 23, 2016]
Learn to program with the Raspberry Pi and Minecraft [to the article in the practice blog of 31.8.2016]
Introduction to the programming of Arduino with videos [ to the article in the practice blog of 7.9.2016]
Professional t-shirts professionally with cutting plotter & Co. [to the contribution in the practice blog from 14.9.2016] design
Crazy machines – from the game to reality [to the article in the practice blog from 6.4.2016]